After six years, AMEDIGSS ends
Since June 2016, the IGSS Board of Directors asked UNOPS
for technical assistance to improve the quality and transparency of the procurement processes of medicines and medical-surgical material managed by the Institute by strengthening procurement capabilities, optimizing levels of care, processes, and management, until world-class standards are achieved through the AMEDIGSS Project.
In April 2020, IGSS and UNOPS signed the agreement
For the implementation of the second phase of the Master Plan for the Modernization of Hospital Infrastructure and Equipment of the Guatemalan Social Security Institute [Instituto Guatemalteco de Seguridad Social], through UNOPS, to be developed between 2020 and 2025.
Learn more about UNOPS programs and projects in Guatemala and their actions to promote transparency
UNOPS Programs and Projects Guatemala

Expected accomplishments of the United Nations System in Guatemala

Fair and Equitable Public Management

Comprehensive Actions in response to emergency due to COVID-19 in Guatemala
---
Learn about our latest press releases button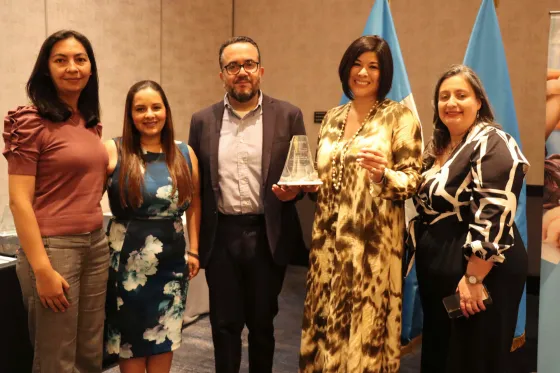 12 May 2023
Press releases
---
Fair and Equitable Public Management
Fair and Equitable Public Management is one "side of the coin" of modern government management; the other side is the fight against corruption. Every specific progress generating a fairer and more equitable public management takes space away from corruption and illegality and, therefore, it is inserted into virtuous cycles that increase the satisfaction of the citizens, their access to rights, their active participation in the administration of their communities, their desire to participate in building a better society in the territories where they move.
---
Comprehensive Actions in response to the COVID-19 emergency in Guatemala
UNOPS, as the UN agency responsible for acquisitions, infrastructure, and project management provides support and technical capacities to governments to ace the challenges of the Coronavirus pandemic. In Guatemala, it provides technical cooperation to Guatemalan Social Security Institute (IGSS), government partners and sister agencies of the United Nations system, to address the public calamity status declared by the National Government (Decrees from the Executive Branch and the Congress of the Republic dated March-July 2020), as well as their related extensions.