About the Program
In April 2020, IGSS and UNOPS signed the agreement for the implementation of the second phase of the Master Plan for the Modernization of Hospital Infrastructure and Equipment of the Guatemalan Social Security Institute, through UNOPS, to be developed between 2020 and 2025.
Know INFRAIGSS
Know INFRAIGSS
The first Phase of the Master Plan for the Modernization of the Hospital Infrastructure and Equipment of the Guatemalan Social Security Institute was carried out from 2007 to 2014, with a budget of more than USD 66 million, and 17 works were carried out. Among these are the Hospital Nacional de Occidente in Quetzaltenango and the Hospital of Puerto Barrios.
OBJECTIVE

To increase health care coverage through infrastructure that improves and brings health services closer to the 3.2 million Social Security beneficiaries in Guatemala.
---
Know the scope of the program
approximately of construction
new beds will be added to the IGSS hospital network
---
Components of the Infrastructure
Infrastructure
Infrastructure
Includes
Design of the hospital complex of zone 11 of Guatemala City and the Hospital de Arrivillaga of zone 5 of the capital city.

Design and construction of the High Complexity Hospital in Zone 11 of Guatemala City and the Hospital Regional de Oriente in Zacapa.

Incorporation of BIM into all infrastructure projects.
Progress and scope
Design Hospital Regional de Oriente in Zacapa
of Hospital de Arrivillaga
Hospital Complex Design Zone 11
---
Medical equipment
Medical equipment
Includes
Acquisition of state-of-the-art medical equipment for new hospitals, and replacing equipment in existing units.

Acquisition of an approximate of 100 ambulances.

Installation of equipment, as well as training IGSS personnel on its use and maintenance.
Progress and scope
Covid-19 Emergency Equipment
---
Technology modernization
Technology modernization
Includes
Technology infrastructure update for modernization of:

User services (upgrading office equipment, etc.)
Business services (improving and developing systems and applications).
Data services (acquiring and modernizing technology infrastructure).

Implementing innovative solutions such as Telemedicine and Imaging
Advances and Scope
Telemedicine Project Progress
---
Transversal program areas
The transversal axes of the INFRAIGSS Program are areas of work included that provide support, advice, and recommendations to all the components of the INFRAIGSS Program.
Learn more
---
INFRAIGSS Benefits
That the Social Security of Guatemala have optimal healthcare infrastructures to improve the capacity to respond to the institution's 3.2 million beneficiaries and workers.

Infrastructures with high international standards with state-of-the-art equipment in accordance with the complexity of the different medical specialties offered by the IGSS health network.

Increased capacity to care in the metropolitan area of Guatemala City and in the country's areas of greatest growth and economic development, by decongesting other medical and clinical units.

Reinforcement of the IGSS IT platform, incorporating new hardware, expanding communications networks, training, and continuous improvement of personnel.
---
SDGs met by the program
Thanks to the joint IGSS-UNOPS effort, IGSS builds its capacities in an efficient, effective, and transparent way with high international standards, in addition to being linked to the sustainable development goals so that no one is left behind:
---
Learn about our latest press releases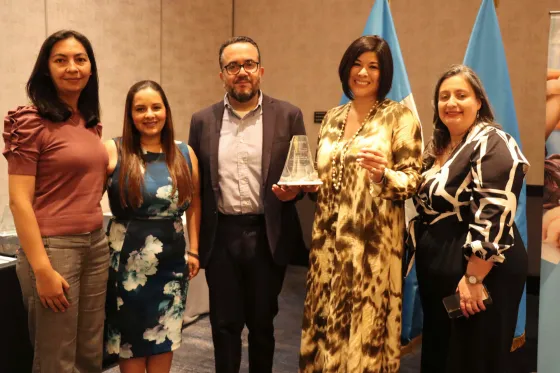 12 May 2023
Press releases