About the project
In June 2016, the Board of Directors of the Guatemalan Social Security Institute signed an agreement with UNOPS for the acquisition of medicines and medical supplies and institutional strengthening, called the AMEDIGSS Project, which was valid for six years (2016-2023).
Project components
Procurement of medicines and medical supplies

Hiring services for the renal replacement therapy

Strengthening and modernizing the institutional management of IGSS.
Find out more about how we do our work at AMEDIGSS:
---
For 6 years AMEDIGSS strengthened the health system, achieving:
Children received cochlear implants
Renal patients received quality care
Renal care centers with high international standards throughout the country
Million units of high-quality medicines delivered, with which we contribute to the supply of the units medical
processes training for transfer capacities to the IGSS officials
Millions of dollars saved
---
Acquisition of medicines
Since 2016, AMEDIGSS has carried out the bidding processes under the Fair and Equitable Public Management approach. To guarantee the value of the money, it incorporated the
Modality of Electronic Reverse Auction, the establishment of Long-Term Agreements (LTA), the reasonableness of prices and the improvement of quality standards, among others.

The project evaluates and verifies the quality and safety of medicines and medical supplies acquired under processes that include controls, sampling, analysis methods, and strict compliance with locally and internationally established protocols and requirements.

More companies, suppliers and the pharmaceutical sector are participating in the bidding processes, increasing savings to the Institute, consolidating, and positioning Social Security as an influential buyer in the national and international market.
Results in acquisitions as of july 2023
Bidding processes for medicines and medical supplies
Total Contracts and LTA's Managed
Total codes for drugs, supplies and hired services
million units of medicines delivered
million units of surgical medical supplies delivered
---
High-quality renal treatments
In Cobán, Amadeo receives hemodialysis.
Renal treatments
These are services that follow high international standards of quality and transparency acquired through transparent and efficient tenders, for the implementation of infrastructure and state-of-the-art technology throughout the country, incorporating qualified health personnel from a comprehensive vision of patient care. with end-stage chronic kidney disease.
The quality of renal therapy services provided by the IGSS through AMEDIGSS contracts was based on a new comprehensive service approach to innovate the following areas in the 29 treatment centers:
Complementary healthcare services
AMEDIGSS provided renal treatment services through 4 implementation phases:
Panchoy Clinics
The UNOPS-IGSS agreement supported the IGSS Panchoy Hemodialysis Clinic in Antigua Guatemala, demonstrating that it is possible to provide quality and warm services, following international standards and improving patient outcomes.
Peritoneal dialysis
UNOPS together with Guatemala's Social Security provided Peritoneal Dialysis services in its 8 centers distributed in Guatemala City and 5 regions of the country (Petén, Zacapa, Alta Verapaz, Quetzaltenango, Jutiapa, Escuintla, Suchitepéquez and Guatemala City). The strategy was able to bring the treatments and their supervision closer to the patients' homes and support their care network. This decentralized scheme is a model in the region and managed to expand the offer of treatment modalities, incorporating the option of automated peritoneal dialysis by cycler for the first time in the country.
Intrahospital Treatments
With the support of UNOPS, IGSS upgraded its critical care services by incorporating high-quality, state-of-the-art technology in 7 main hospitals, including training its staff to provide quality service in a standardized manner. Continuous Slow Therapy (CRRT) for special use in severe patients with vascular instability was incorporated for the first time in the country, available in 3 hospitals in the metropolitan area.
Ambulatory hemodialysis
In the span of 1 year (March 2021 to March 2022), the IGSS with the support of UNOPS implemented 13 chronic outpatient hemodialysis centers in different regions of the country (Retalhuleu, Suchitepéquez, Guatemala City -zones 9,12 and 1-, Escuintla, Santa Rosa, Quetzaltenango, Mixco, Villa Nueva, Izabal, Zacapa and Cobán) to improve patients' access to treatment and reduce transfers. These centers meet high standards of technological and building development, with professional health personnel trained for comprehensive care for kidney patients.

1. Medical specialists, dialysis technicians, psychologists and nutritionists trained and in quantity according to international standards.
2. High quality equipment.
3. Adequate training and fully available to provide any clear information related to treatment.
Perception survey
Since 2021, UNOPS has conducted a quarterly satisfaction perception survey of services provided to patients, who respond voluntarily through a mixed questionnaire evaluating five different dimensions of satisfaction of dialysis services and care, during the third quarter of the year. The results of satisfaction are greater than 95%.
---
Institutional strengthening
Institutional strengthening
Since 2016, the IGSS, through the AMEDIGSS project, has adopted new processes that have allowed to strengthen the:
Hiring services for renal replacement therapy
In addition, IGSS strengthens the way it manages its institutional strategy, addressing business process improvements, data management, and the culture of service, enabling its transformation towards Institutional Excellence. This not only continues to contribute to more consolidated, reasonable, transparent, and fair acquisitions, but also to ensure that affiliates and beneficiaries receive warm, quality services.
---
Transversal axes
In AMEDIGSS we have transversal axes that allow us to meet our objectives in the most efficient way, find out more about our transversal axes.
Learn more
---
Sustainable development objectives met by the project
Thanks to the joint IGSS-UNOPS effort, IGSS builds its capacities in an efficient, effective, and transparent way with high international standards, in addition to being linked to the sustainable development goals so that no one is left behind:
---
Learn about our latest press releases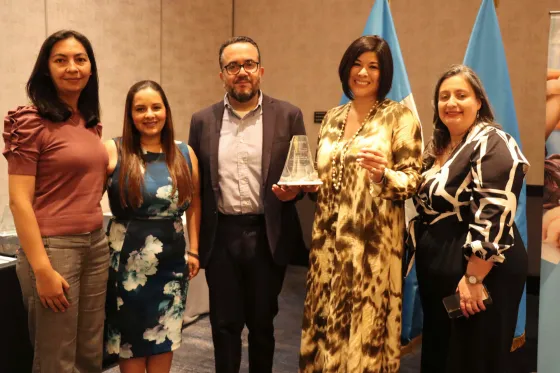 12 May 2023
Press releases